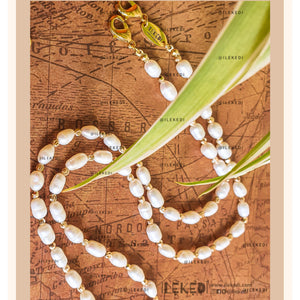 Style meets function with our mask chain necklace. This fashionable necklace chain helps prevents your face mask from having contact with other surfaces, lowering the risk of contagion.
Created to keep your mask within reach at all times, simply hook the chain to the ear loops of your favorite mask. When you're not wearing it with a mask, style this innovative design into a piece of jewelry and wear it as a necklace.
This will be
 one of the best accessories you purchase this year.
24" long
18k gold plated non-tarnish stainless steel
Lobster clasp closure
Face covering not included 
Non-returnable. Final sale
Disclaimers: Per NCDC guidelines for high touch items, clean and disinfect the necklace after each use. This necklace for face covering(s) is not intended for medical use and should not be used (1) in any surgical setting or where significant exposure to bodily or other hazardous fluids may be expected; (2) in a clinical setting where the infection risk level through inhalation exposure is high; or (3) in the presence of a high intensity heat source or flammable gas. We make no warranties, express or implied, that the use of this face covering chain prevents infection or the transmission of viruses or diseases.