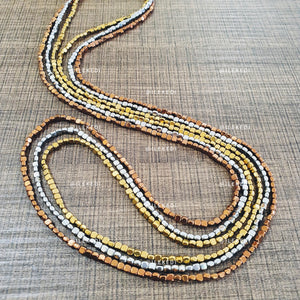 A set of 3 (Gold, Silver & Bronze) waistbeads with shimmering facets and a vibrant electroplated finish.
Crafted with flat square semiprecious hematite gemstones, secured with high quality beading wire and finished with gold plated screw clasps.
Waistbeads are made to measure so one (1) layer/line waist bead will go around a particular waist one time. 
Please refer to the size guide to get your correct measurement.
If you prefer them made traditionally tie-on (cotton string, no clasps) or with adjustable chain clasps (Click HERE to add that to your cart), please write that in the special instructions .
Click HERE to add adjustable chain clasps to your order.