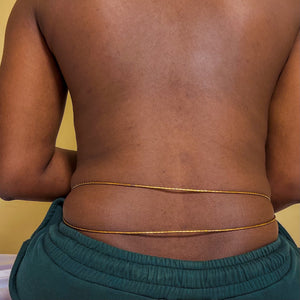 Delicately designed, these luminescent waistbeads boast a shimmering lustrous electroplated finish. Crafted with tubular hematite gemstones, these jewels are securely strung with high-end beading wire and finished with gold plated screw clasps.
Waistbeads are made to measure so one (1) layer/line waist bead will go around a particular waist one time. 
Please refer to the size guide to get your correct measurement.
If you prefer them made traditionally tie-on (cotton string, no clasps) or with adjustable chain clasps (Click HERE to add that to your cart), please write that in the special instructions .
Click HERE to add adjustable chain clasps to your order.