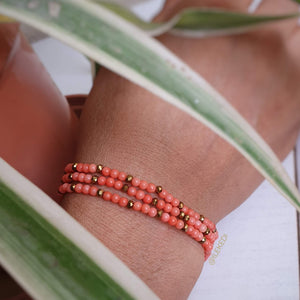 Peach

 coral balls accented with gold crystals on a stretch elastic cord.
Bead size is 2mm and is finished with gold glass crystals
Bracelet is available in multiple sizes on an elastic cord.
Price shown is for 1 bracelet.
Please be aware that due to the unique and handmade nature of each product, colors, shapes, and bead sizes may vary slightly from the photos and descriptions.