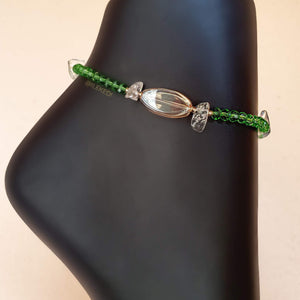 Emerald green crystals accentuated with a champagne oblong crystal that looks like candy with quartz stone chips.This anklet is the perfect finishing touch to your outfit.
Beads in 4mm make this gorgeous ankle bracelet finished with gold screw clasps.
Please refer to the size guide to get your correct measurement.
Click 

HERE

 to add adjustable chain clasps to your order.
Please be aware that due to the unique and handmade nature of each product, colors, shapes, and bead sizes may vary slightly from the photos and descriptions.